Research
Monitoring programme
The Arctic Station maintains two automatic climate stations. One is located in the immediate vicinity of the Arctic Station, whereas the other is in Akulliit (Mellemfjord, see photo) on the west coast of the Disko Island.
The datalogging at Arctic Station (every half hour) comprises: air temperatur, humidity, incoming and outgoing radiation, wind speed and direction, rainfall, ground temperatures (5, 60 and 150 cm below surface) and temperature in solid rock 2 metre below surface. Measurements in Akullit (every second hour) comprise: air temperature, humidity, incoming and outgoing radiation, windspeed and direction, and ground temperatures (5, 60 og 150 cm below surface).
Processed data from 1998 (PDF), 1997 (Fig. 1, Fig. 2, Fig. 3), 1995 and 1991-1995 are shown here to demonstrate the potential of the samplig programme. All files in PDF.
NOTICE!

Climate datafiles from 1998 can be downloaded free of charge. However, when using the data provided by the Arctic Station you must acknowledge this in any type of publication, poster etc. All publications that make use of the data provided must be forwarded to the secretariate of the Arctic Station.
---
Daily visual observations:
Sea ice (% coverage), depth of snow (dec.96 - nov. 97. see graph below)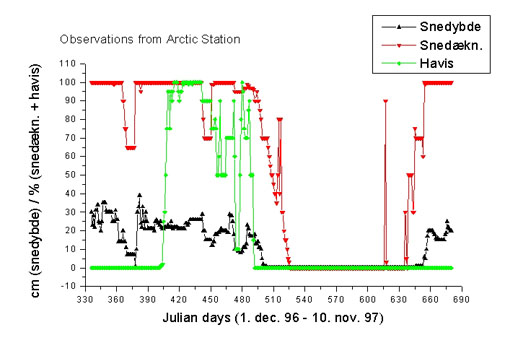 The onset of flowering and ripening of seeds (selected species)
Day of arrival of common birds
Spotting of large mammals (whales)
Aperiodical CTD-monitoring of Disko Bay
CTD casts were made approximately every second week at a permanent station in front of the Arctic Station during 1995 and 1996-1997 (water depth approx. 300 metre). These data are here available (temperatur, salinity and fluorescense) as PDF.