Technical description of the research vessel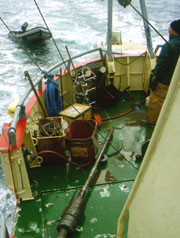 The vessel was built at Assens Shipyard, Funen, Denmark. The hull was subcontracted to Poul Ree's Maskinfabrik in Stokkemarke, Lolland. Technical consultancy and design: Dwinger Marineconsult, Denmark. Consultant: Hans Borchersen. Technical consultant and representative of the owner: Niels Nielsen, Institute of Geography, University of Copenhagen. The construction of the vessel is in accordance with the rules and recommendations of Lloyd's Register of Shipping.
Hull: steel and aluminum, which is fitted together with compound material.
Dimensions: The vessel has a length of 15,1 m, a breadth of almost 5 m and a max draft of 1,9 m. The lightweight is about 45 tons and the displacement is about 52 tons. The gross tonnage is 19,9 tons GT.
Machinery: The main engine is a 362 HP SCANIA DIESEL giving the vessel a service speed of 9.5 knots (max. 10,5 knots). A 10 HP auxiliary engine provides current supply (220 V), when the vessel is at anchor. Special voltage regulated installations for EDB and microscopes. The capacity of fuel is 6 tons.
Crew and passenger capacity: over-night accommodations for eight passengers, (12 pass. in daytime), and three crew members.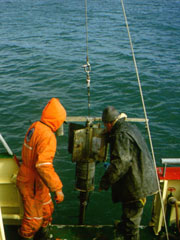 Working Place and Winch: The working deck is situated abaft the wheelhouse. In the middle of the deck an opening in the rail makes an easier admittance to the rubber boats on the shipside and makes it easier to take onboard heavy samples of the bottom, scraper or net. There are two winches for investigation purposes. A big winch is situated on the deck with a capacity of 400 m wire (Ø = 10 mm), lifting capacity of about 2 tons. The work is carried out on starboard side by the derrick. This winch is intended for instance for scraping of the bottom, heavy sampling by grabbing and 'drop core' sampling. Abaft there is a smaller winch. The wire has a length of 800 mm and Ø is 4 mm. This is mainly to be used for hydrographic monitoring instruments. The wire is led through a hole in the deck and through gallows placed aft. Both winches are equipped with digital indicators for unwinded wire.
Rubber Boat: A hydraulic winch is installed on the derrick for taking on board and launching of the rubber boat. The rubber boat has a length of 4,6 m and is of the type 'Zodiac' fitted with 25 HP outboard motor and a spare motor of 10 HP.
Deck Washing Systems: There are two deck washing systems. One supplied with heating water from the heat exchanger of the machinery, another giving pure seawater without impurities (i.e. oil remainings, etc.).
Wheelhouse and Navigation: Besides captain's chair there is a table with one chair and a bench (4 pers.) and a chart table. An Intercom system gives the possibility to do two-way communication with all other rooms from the wheelhouse. The vessel is provided with satellite-based GPS-positioning (Furuno GP-500 MK II), gyro compass, auto pilot, 2 radars and log. There are two types of echo sounders: coloured-video-echo sounder (14' Furuno FCV-780 with 50 KHz transducer) and writing sounder (Furuno FE-881 MKII with two transducer units of 200 and 28 KHz respectively). Digital statement of depth at captain's chair. The surface temperature of the sea is shown digitally. A colour-video-plotter shows and gathers information such as date, UTC-time, position in geographic coordinates, depths according to self-elected band of frequency and temperature. Further, the 'track' of the vessel is shown on the chart. The 5 most important sea charts (digital) in the south and the north of Disko are available. Free choice of sample-frequency in time and distances. Bearings, 'marks', etc. are operated by mouse. Other choices are effectuated on stationary or remote keyboards. All the chosen information can be 'down-loaded on ordinary 3.5" 720 KB-disc. On board you will find PC-software to transform the special Furuno-format to ASCII-format and in this way for further processing on ordinary PC. Weather chart receiver, Navtex, Furuno Fox-208 is available.
Radio and Safety Equipment: VHF and MF/HF radio-telephone, 3 Motorola portable VHF-stations and watch receiver. Further, typhoon, EPIRP and SART-transmitters. Liferafts for 16 persons and survival suits are available.
Accommodation: From the wheelhouse there is access to accommodation fore consisting of one cabin with 4 berths, messroom with 4 berths, benches and chairs for 8 persons and galley with electrical cooker, exhaust fan, sink, cold and hot water, refrigera-tor, coffee urn, etc. Further, radio, TV, and video recorder. Two toilets with sink and shower are situated at midships, portside. The crew accommodation is situated aft. There is access to the hold below main deck across a flush hatch in deck or through an hatch beside the engine room. A 80 liters freezer is available in this room.